In-Studio Footage:

Man I must say kickin it these guys is an experience. Good times and hardwork in lame terms work hard, play hard. High Society is all about that and more. Artist Jerz and Zay Cash make up the duo. Their vibe is the north meets the south. Imagine 8ball and MJG meets State Property, crazy when you think about it. But for these two the vibe comes natural. High Society really lives by that name and later in this write-up you'll understand why.
We started the session meeting High Society at an exclusive studio spot deep in the city of Atlanta. I brought thru my producer E.Wonder to meet Jerz in person. They have already been going in on some work. When we arrived they were already in deep thoughts knocking out material with plenty of smoke in the room. E. Wonder came in with his laptop and pulled up some new stuff. Off rip Jerz and Zay Cash came up with an instant banger. Still with plenty of smoke in the air! I believe Jerz come up with the hook, I didnt even see him write the verse. But it was fanito either way. We didnt stay that long for that day 1 studio session but man. Those guys some workers
Day 2 we pull up once and again to meet Zay Cash outside the studio before entering. Jerz came into the session a couple of minutes later. Reminding us they had E.Wonder make a folder of some beats they heard before. Once we loaded those bad boys High Society once again got to work. But before we just say they got to work. I admit they made it a movie. Hennessy in the room and red cups in everybody hand. Then on top of that wax which is pure THC and the best Buddha around. It was nothing else to do except come up with some bangers. I must admit Jerz and Zay know how to treat company. We heard alot of unreleased tracks from these two. Still with blunt after blunt. I'm pretty sure High Society will have a dope project. They are always doing shows all around. So if you do have a chance to check them out in person, please do so. Zay told me they met by just kicking it in V.I.P. in some club one night. Just two real dudes with the same vision. That's what it takes to build a championship team. PreciseEarz.com is most def giving the High Society our cosign.
Zay Cash Below..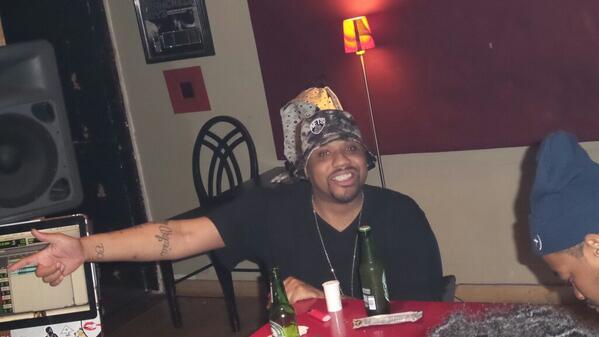 Studio Pic Below..

Jerz & E.Wonder..